Racing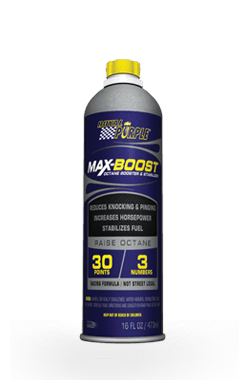 Max-Boost™ Octane Booster & Fuel System Stabilizer
Royal Purple's new Max-Boost is a high performance octane booster and fuel treatment for racing applications that increases gasoline octane, reduces emissions, and enhances engine performance while stabilizing fuel.
Formulated with MMT, Max-Boost delivers the best octane enhancement to help eliminate engine-damaging detonation, pre-ignition, and pinging or knocking from low-octane gasoline. Max-Boost is the best fuel system stabilizer for anyone looking to significantly boost engine performance and efficiency.
Max-Boost fuel system stabilizer is formulated for racing engines equipped with carburetors, port fuel injection and direct injection, as well as turbocharged, supercharged and nitrous-injected engines.
Max-Boost is safe for use in leaded and unleaded gasoline, and alternate fuels like gasohol, reformulated gasoline, and all ethanol blends. Our premium fuel system stabilizer is also safe for oxygen sensors and catalytic converters.
Ready to outperform?
Max-Boost Performance Advantages
Reduces engine knocking and pinging
Raises octane rating up to 30 points or 3 numbers
Restores power and fuel economy
Cleans deposits from fuel injectors
Reduces power loss due to knock-retard in computer controlled vehicles
Replaces lead additives for protection of non-hardened valve seats
Stabilizes fuel
Directions:
One can of Max-Boost treats up to 25 gallons of gasoline. Pour entire can into tank before fill-up. Clean immediately if spills occur, as Max-Boost can permanently stain painted surfaces. Do not expose liquid to direct or indirect sunlight. Be sure to replace cap after can has been emptied, and dispose of properly.
Please Note:
Max-Boost is a racing formula and is not street legal. Please consult Royal Purple's automotive technical support department for more information.
Buy Max-Boost online or find a retailer near you.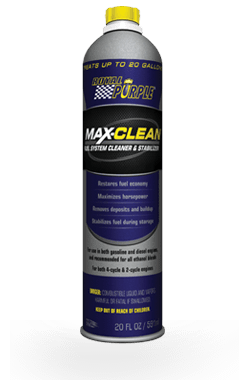 Max-Clean Fuel System Cleaner & Stabilizer
Royal Purple's new Max-Clean is a state-of-the-art synthetic fuel system cleaner that deeply penetrates and cleans injectors, carburetors, intake valves and combustion chambers to restore fuel economy and reduce emissions.
The illustration below shows the fuel injector before and after using Max-Clean.

Illustration of before and after Max-Clean
NAPA Know How writers recently cited twice-annual use of Max-Clean in gas tanks as one of the "10 Overlooked Services that can Extend the Life of Your Vehicle."
Highly versatile, Max-Clean is EPA / CARB compliant and safe for use in gasoline and diesel engines including all ethanol blends or biofuel. Max-Clean is great for use in in both 4-cycle and 2-cycle engines, and will not harm specialized emissions equipment.
Fuel system cleaner is worth it. We performed multiple product fleet tests on various makes and models of vehicles and, after as little as one treatment with Max-Clean, we found significant advantages in engine performance and fuel economy.
Max-Clean Performance Advantages
Improve fuel economy an average of 3.2 percent
Restore horsepower an average of 2.6 percent
Reduce hydrocarbon, nitrogen oxide (NOx) and carbon monoxide (CO) emissions (on average 12, 13 and 18 percent respectively)
Prevent rough idle, hesitation, and stalling
Prevent premature spark plug fouling
Reduce deposit-related engine knocking and pinging
Stabilizes fuel during off-season and storage
Superior corrosion and oxidation inhibitor
Recommended Treat Rate & Usage

3,000 Mile Interval – 6 oz. can
Pour entire contents of 6 oz. can into tank prior to fueling. Each can treats up to 20 gallons. Max-Clean fuel system cleaner is ideal for both 2-stroke and 4-stroke engines.
10,000 Mile Interval – 20 oz. can
Pour entire contents of 20 oz. can into a nearly empty tank and refuel. One (1) can treats up to 20 gallons. For tank sizes outside of this range, use one (1) ounce per gallon. In 2-cycle engines, use one (1) ounce per two (2) gallons.
Buy Max-Clean online or find a retailer near you.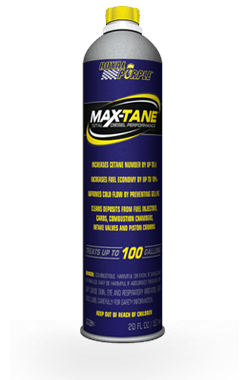 Max-Tane™ Diesel Fuel Injection Cleaner & Cetane Boos
Diesel engines are valued for fuel efficiency and longevity. Extend the miles you can drive and years of service on your diesel engine with Royal Purple's new Max-Tane fuel injector cleaner and stabilizer.
Max-Tane is for year-round use in all types of light, medium and heavy duty diesel engines, and is compatible with any type or grade of diesel fuel, including #1 diesel and #2 diesel, biodiesel and ultra-low-sulfur diesel (ULSD).
Specifically formulated to solve problems that come with today's new HPCR (High Pressure Common Rail) diesel injection systems, this premium fuel system cleaner prevents gelling, improves fuel economy, lubricates and cleans the fuel system.
Max-Tane is safe to use with all types of diesel exhaust emission systems equipment, including diesel particulate filters (DPFs) and catalytic converters. However, do not pour Max-Tane directly into Diesel Exhaust Fluid.
Max-Tane Performance Advantages
Increases cetane number by 8*
Increases fuel economy by up to 10%
Improves engine startup and reliability in both warm and cold temps
Improves cold flow by preventing gelling
Cleans deposits from fuel injectors, combustion chambers, intake valves deposits and piston crowns
Provides lubricity to entire fuel system
Reduces smoke and odor
* When used as directed.
Recommended Treat Rate
20 ounces → 100 gallons
15 ounces → 75 gallons
10 ounces → 50 gallons
5 ounces → 25 gallons
Directions:
The minimum recommended Max-Tane treat rate is one (1) ounce per five (5) gallons of diesel fuel. High performance applications can safely use one (1) ounce per two (2) gallons of diesel fuel for maximum benefit. If uncertain of exact tank size, round up. Replace cap after bottle has been emptied and dispose of properly.
Buy Max-Tane online or find a retailer near you.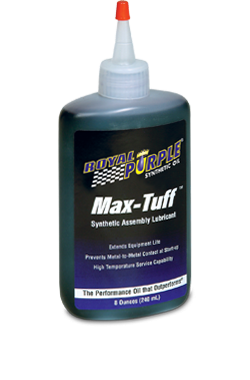 Max-Tuff Synthetic Assembly Lubricant
Max-Tuff is an ultra-tough, synthetic lubricant. It's designed for engine builds and repairs, specifically crankshaft, camshaft and rod bearing assembly. Max-Tuff utilizes unique, synthetic molecules that adhere to metal surfaces to create a formidable, load-bearing physical barrier between surfaces. This minimizes the metal-to-metal contact and wear in boundary lubrication conditions, and provides excellent protection against rust and corrosion of both ferrous and nonferrous metals.
Performance Advantages
Greater wear protection
Clean, efficient equipment
Extends equipment life
Compatible with conventional mineral and synthetic oils
Non-foaming
Outstanding rust / corrosion protection
High temperature service capability
Ultra-Performance Grease
Royal Purple Ultra-Performance Grease (UPG) is a high performance, multi-service, aluminum-complex, synthetic grease which significantly increases bearing life and equipment reliability. It also makes bearings run smoother, cooler and quieter.
UPG satisfies a wide range of grease requirements from the lubrication of bearings to u-joints and general-purpose use. It has outstanding extreme pressure capabilities and excellent water resistance to both emulsion and washout. UPG is stable at high temperatures. It also has excellent oxidation resistance for extended service life and to provide a margin of safety between lubrication intervals.
When the China Star Bullet Train was having heat problems keeping them from achieving optimal speed, they evaluated 26 of the best lubricants available. Royal Purple's UPG product solves heat problems for the China Star Bullet Train.
After careful testing, senior engineers selected Royal Purple's Ultra-Performance Grease. Not only did UPG help them resolve their heat problems, i t also, enabled them to set a new land-speed record for bullet trains.
UPG is made using a superior blend of synthetic base oils plus Royal Purple's unique, proprietary, noncorrosive Synerlec additive technology.