Motorcycle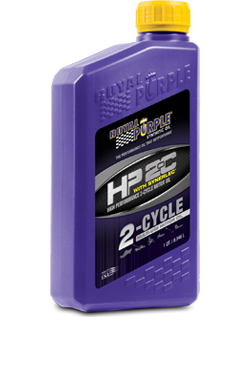 HP 2-C – High Performance 2-Cycle Motor OIl
Royal Purple HP 2-C (formerly 2-C TCW III) is recommended for use in both pre-mixed and oil-injected gasoline 2-cycle engines in outboard motors, motorcycles, jet skis, chainsaws, and other 2-stroke power equipment. Royal Purple HP 2-C is a high performance synthetic engine oil that improves 2-cycle performance and reduces wear in both standard and high performance 2-cycle gasoline engines. Engineered with Royal Purple's advanced technology, HP 2-C is completely ashless to minimize deposits in the combustion chamber and exhaust system.
HP 2-C has synthetic solvency that keeps spark plugs and exhaust ports clean for maximum 2-stroke engine efficiency. This engine cleanliness combined with HP 2-C's low coefficient of friction promotes increased horsepower and engine speed. That means your higher-revving, hard-working 2-stroke engines operate with greater combustion efficiency and go longer between overhauls when lubricated with HP 2-C synthetic engine oil.
HP 2-C is suitable for premix in snowmobiles; however, due to cold soak (low-temperature pumpability issues with oil-injected snowmobiles) Royal Purple recommends Snow 2-C for operation in temperatures below 20°F.
HP 2-C Synthetic Engine Oil Advantages
Greater wear protection
Clean, efficient 2-cycle engines
Rust / corrosion protection
Increased engine performance
Ashless, to minimize exhaust deposits
Buy HP 2-C online or find a retailer near you.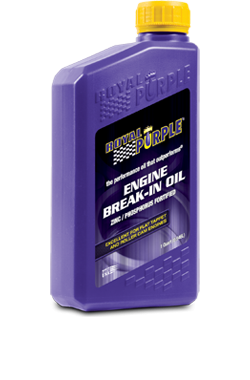 Break-in Oil
Engine builders have grown increasingly concerned that many modern motor oils do not provide adequate wear protection for new engines, particularly those using flat-tappet cams. Royal Purple has addressed this issue by developing a new engine break-in oil that promotes a gentle start-up and gives you superior protection from rough-running engine problems.
Royal Purple combines highly refined mineral oil, preferred for engine break-in, with advanced additives containing high levels of zinc and phosphorus to optimize protection in flat-tappet and roller engines.
Royal Purple Break-in Oil is formulated to allow optimal ring seal and protect rotating assembly components such as the camshaft and valve train from initial start-up wear. Its high film strength provides engine protection superior to full synthetic oils that are not engineered specifically for new engines. Perfect for your new factory-ordered vehicle and engine rebuilds, Royal Purple Break-In Oil is fully formulated and does not require the use of any other chemical additives. After the engine is broken in, we recommend using the right Royal Purple high performance synthetic engine oil for your vehicle.
Are your ready to outperform? From the start?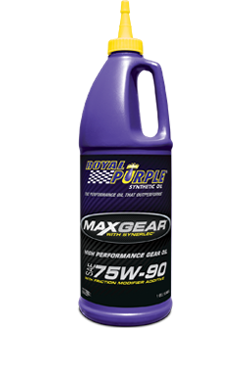 Max Gear – High Performance Synthetic Gear Oil
Max Gear is recommended for use in truck and automotive front or rear differentials, manual transmissions and lower gear units of marine engines that specify use of an API GL-5 or GL-4 fluid. It is non-corrosive to soft yellow metals (brass, bronze, copper, etc.) and synchronizer safe. Specially designed to extend gear and bearing life, Max Gear provides superior corrosion protection over competing conventional and synthetic gear oils.
We engineered this ultra-tough, high performance automotive hypoid gear oil to provide maximum protection to heavily loaded gears while maximizing power throughout the drive train. Max Gear outperforms ordinary gear oils by combining the highest quality synthetic oils with Royal Purple's proprietary Synerlec® additive technology.
Max Gear makes gears run smoother, quieter, cooler and longer without overhauls. A direct reduction of drag in the drive train has huge advantage for trucks and other 4-wheel drive vehicles: better gas mileage. Max Gear is formulated with a friction modifier additive – no additional additives are necessary.
Max Gear is available in the following viscosities: 75W-90, 75W-140, 80W-90, 85W-140 and SAE 90
Max Gear High Performance Gear Oil Advantages
Maximizes horsepower
Extends gear and bearing life
Reduces operating temperature
Severe service performance
Lower coefficient of friction
Superior corrosion protection
Separates rapidly from water
Meets warranty requirements
Environmentally responsible
Formulated for limited-slip differential use
Buy Max-Gear online or find a retailer near you.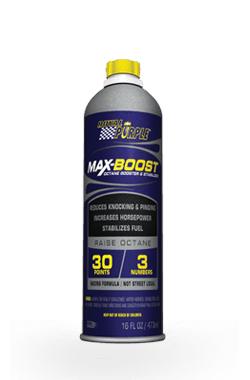 Max-Boost™Octane Booster & Fuel System Stabilizer
Royal Purple's new Max-Boost is a high performance octane booster and fuel treatment for racing applications that increases gasoline octane, reduces emissions, and enhances engine performance while stabilizing fuel.
Formulated with MMT, Max-Boost delivers the best octane enhancement to help eliminate engine-damaging detonation, pre-ignition, and pinging or knocking from low-octane gasoline. Max-Boost is the best fuel system stabilizer for anyone looking to significantly boost engine performance and efficiency.
Max-Boost fuel system stabilizer is formulated for racing engines equipped with carburetors, port fuel injection and direct injection, as well as turbocharged, supercharged and nitrous-injected engines.
Max-Boost is safe for use in leaded and unleaded gasoline, and alternate fuels like gasohol, reformulated gasoline, and all ethanol blends. Our premium fuel system stabilizer is also safe for oxygen sensors and catalytic converters.
Ready to outperform?
Max-Boost Performance Advantages
Reduces engine knocking and pinging
Raises octane rating up to 30 points or 3 numbers
Restores power and fuel economy
Cleans deposits from fuel injectors
Reduces power loss due to knock-retard in computer controlled vehicles
Replaces lead additives for protection of non-hardened valve seats
Stabilizes fuel
Directions:
One can of Max-Boost treats up to 25 gallons of gasoline. Pour entire can into tank before fill-up. Clean immediately if spills occur, as Max-Boost can permanently stain painted surfaces. Do not expose liquid to direct or indirect sunlight. Be sure to replace cap after can has been emptied, and dispose of properly.
Please Note:
Max-Boost is a racing formula and is not street legal. Please consult Royal Purple's automotive technical support department for more information.
Buy Max-Boost online or find a retailer near you.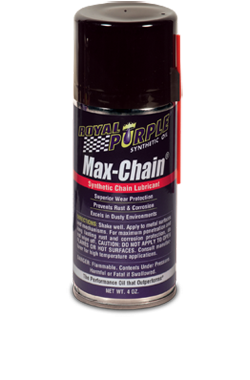 Max-Chain® Chain Lubricant
Max-Chain is recommended for chains and open gears operating in dusty environments. Max-Chain is an advanced, high performance, synthetic lubricant that provides excellent protection for chains, open gears and exposed metal surfaces subjected to severe loading — even in wet, acidic environments.
Max-Chain is a unique, thixotrophic lubricant blended with a solvent carrier. Once applied, the carrier evaporates leaving a tenacious, dry, wax-like film. This non-tacky film effectively minimizes the collection of abrasive dust and other airborne contaminants. The EP properties of Max-Chain greatly reduce wear and effectively extend equipment life. Max-Chain can lubricate up to 400˚F (after carrying solvent has evaporated) and provides excellent protection against rust and corrosion. Max-Chain has a CO2 propellant.
Performance Advantages
Easily applied
Long lasting
Excellent for dusty environments
Protects heavily loaded surfaces
Excellent corrosion protection
Environmentally responsible


Tech Tip:
Max-Chain should be used in an up-right position to maximize aerosol propellant life.