Motorcycle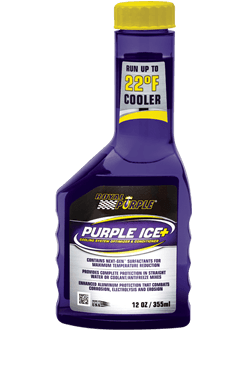 Purple Ice® – Radiator Coolant Additive
Purple Ice® is a high performance radiator conditioner. Its advanced 2-in-1 corrosion inhibitor and wetting agent provides year-round defense against corrosion. Purple Ice also reduces the surface tension of the radiator coolant to help reduce engine temperatures.
Reduces Coolant Temperatures
Extensive testing confirms Purple Ice reduces coolant temperatures better than comparable products while providing extra corrosion protection. For example, the average operating temperature of a 350 c.i.d. V8 engine (equipped with 160˚ thermostat) when dyno-tested with different coolants are: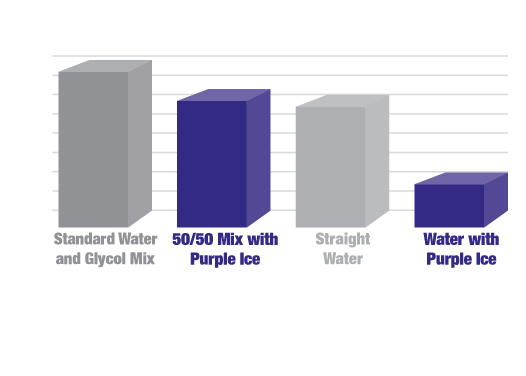 Recommended Treat Rate*
For use with antifreeze:
1 oz. / quart of cooling system capacity
For straight water applications:
2 oz. / quart of cooling system capacity
*minimum of 20% antifreeze is recommended in street-driven vehicles.
Performance Advantages
Improved Performance
Reduces surface tension of a coolant allowing more heat to transfer outside the radiator resulting in more horsepower
Reduced Heat
Reduces hot spots in the engine and cylinder heads, reducing the possibility of engine failure
Maximum protection
Helps prevent overheating, keeps the system clean and extends the life of the water pump
Compatible
Safe to use with water-only or antifreeze/water blends
Tech Tip: Important Precautions: Be sure your cooling system is working properly and that the radiator is free of blockage and corrosion before using Purple Ice. Antifreeze should be properly mixed and filled to manufacturers' specifications. Distilled water and / or demineralized water should not be used if you elect to run a mixture of straight water and Purple Ice in your radiator. Contact Royal Purple's Technical Support department if you are considering using Purple Ice with straight water or if you have previously used another brand of coolant additive. Call toll-free at 888-382-6300 or Email Technical Support.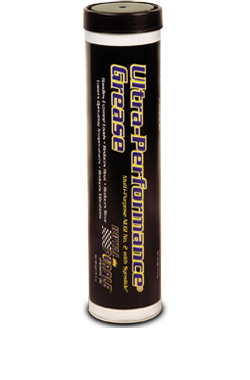 Ultra-Performance Grease
Royal Purple Ultra-Performance Grease (UPG) is a high performance, multi-service, aluminum-complex, synthetic grease which significantly increases bearing life and equipment reliability. It also makes bearings run smoother, cooler and quieter.
UPG satisfies a wide range of grease requirements from the lubrication of bearings to u-joints and general-purpose use. It has outstanding extreme pressure capabilities and excellent water resistance to both emulsion and washout. UPG is stable at high temperatures. It also has excellent oxidation resistance for extended service life and to provide a margin of safety between lubrication intervals.
When the China Star Bullet Train was having heat problems keeping them from achieving optimal speed, they evaluated 26 of the best lubricants available. Royal Purple's UPG product solves heat problems for the China Star Bullet Train.
After careful testing, senior engineers selected Royal Purple's Ultra-Performance Grease. Not only did UPG help them resolve their heat problems, it also, enabled them to set a new land-speed record for bullet trains.
UPG is made using a superior blend of synthetic base oils plus Royal Purple's unique, proprietary, noncorrosive Synerlec additive technology.