Racing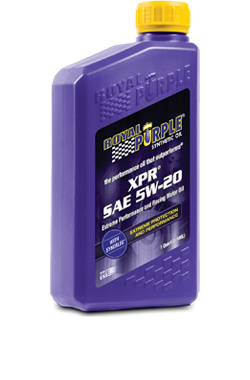 XPR® – Extreme Performance Synthetic Racing Oil
Royal Purple's XPR (Extreme Performance Racing) synthetic motor oil is specifically formulated for the demands of multi-platform racing environments. XPR is popular in a variety of motorsports including: NASCAR, NHRA, World of Outlaws and Bonneville Salt Flats.
XPR combines the highest quality of synthetic base oil with Royal Purple's proprietary Synerlec® additive technology and additional performance enhancers that maximize horsepower and torque while providing the highest level of protection against motorsports-grade heat and wear. XPR synthetic motor oil provides more protection than leading synthetics and conventional lubricants including those combined with aftermarket additives.
Professional engine builders and race teams cite increased horsepower and longer engine life with the use of Royal Purple.
Exceptionally tough under extreme heat, Royal Purple XPR comes in a range of weights, each specific to certain motorsports applications and fuel types – such as alcohol, methanol and nitrous oxide.
Available XPR synthetic motor oil viscosities:
XPR 3.1 0W-5
is our lowest viscosity engine oil designed for the most competitive classes such as Pro Stock, Pro Stock Bike, Comp Eliminator and NASCAR Cup (qualifying). The ultra-low viscosity provides the most horsepower possible by keeping parasitic losses to an absolute minimum while providing unparalleled protection.
XPR 0W-10
is an ultra-light viscosity motor oil formulated for gasoline engines used in drag racing, motorcycle sprint racing, etc.
XPR 5W-20
is a light-viscosity motor oil formulated to withstand exotic fuels such as alcohol, methanol and nitrous oxide (NO2). This blend is excellent for drag racing.
XPR 5W-30
works well in a variety of applications, from oval track late models to bracket racing. This synthetic motor oil blend is extremely versatile and produces excellent horsepower while preventing wear.
XPR 10W-40
is designed for marine, oval track and endurance car racing. Capable of withstanding long intervals of extreme heat, it works especially well with alcohol and methanol and is extremely popular in sprint cars, late models and World of Outlaws racing.
XPR 20W-50
is formulated for running extended periods under extreme pressure and heat. It is used in oval track, marine and drag racing and is very popular in sprint cars, late models, truck pullers and bracket racing.
Please consult Royal Purple's Technical Department when choosing the racing oil for your specific application.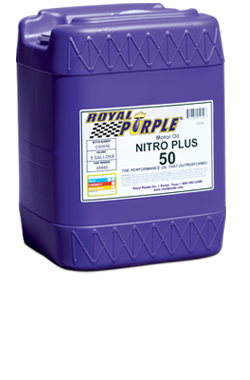 Nitro Plus Racing Oils
Royal Purple's Nitro Plus Oils are straight-grade synthetic motor oils formulated specifically for use in blown alcohol, nitro-methane or any racing applications that experience excessive fuel dilution.
Designed to withstand even the most severe stress in high-compression engines, Nitro Plus oils outperform all other high performance synthetic oil on the market. And their non-foaming formula provides optimal protection against engine rust and corrosion.
"Running Royal Purple in my engines over the years has been a key component to helping me gain the competitive edge over my competition as well as my repeated trips to the winners circle," says Clay Millican, 6-time IHRA Top Fuel Champion. "Not worrying about my oil getting mixed up with my fuel leaves me able to focus on more important things at the track, like winning. I would recommend any of Royal Purple's products to other racers out there."
Please consult Royal Purple's Technical Department at rpautotech@royalpurple.com when choosing the racing oil for your specific application.
Nitro Plus Racing Oil Advantages
Greater wear protection
Separates rapidly from alcohol/nitro methane
Resists bearing washout
Can withstand severe stress of high compression engines
Non-foaming formula
Outstanding rust/corrosion protection
High temperature service capability
Available Viscosities
Nitro Plus 50
Viscosity typical of an SAE 50 oil.
Nitro Plus 60
Viscosity typical of an SAE 60 oil.
Nitro Plus 70
Viscosity typical of an SAE 70 oil.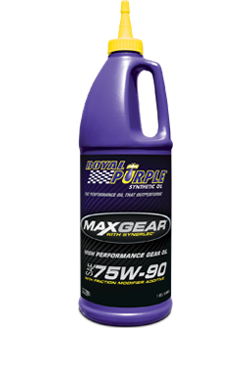 Max Gear – High Performance Synthetic Gear Oil
Max Gear is recommended for use in truck and automotive front or rear differentials, manual transmissions and lower gear units of marine engines that specify use of an API GL-5 or GL-4 fluid. It is non-corrosive to soft yellow metals (brass, bronze, copper, etc.) and synchronizer safe. Specially designed to extend gear and bearing life, Max Gear provides superior corrosion protection over competing conventional and synthetic gear oils.
We engineered this ultra-tough, high performance automotive hypoid gear oil to provide maximum protection to heavily loaded gears while maximizing power throughout the drive train. Max Gear outperforms ordinary gear oils by combining the highest quality synthetic oils with Royal Purple's proprietary Synerlec® additive technology.
Max Gear makes gears run smoother, quieter, cooler and longer without overhauls. A direct reduction of drag in the drive train has huge advantage for trucks and other 4-wheel drive vehicles: better gas mileage. Max Gear is formulated with a friction modifier additive – no additional additives are necessary.
Max Gear is available in the following viscosities: 75W-90, 75W-140, 80W-90, 85W-140 and SAE 90
Max Gear High Performance Gear Oil Advantages
Maximizes horsepower
Extends gear and bearing life
Reduces operating temperature
Severe service performance
Lower coefficient of friction
Superior corrosion protection
Separates rapidly from water
Meets warranty requirements
Environmentally responsible
Formulated for limited-slip differential use
Buy Max-Gear online or find a retailer near you.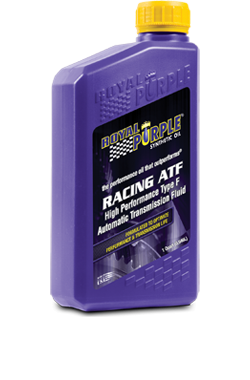 Racing ATF Automatic Transmission Fluid
Royal Purple's Racing ATF is a motorsports-grade lubricant recommended for all high performance, non-electronic shift transmissions that use a Type F automatic transmission fluid.
As a performance transmission fluid, Racing ATF delivers firm, positive shifts for greater consistency and clutch life. Exceptional oxidation resistance allows for extended use and more time between fluid changes compared to conventional and other synthetic fluids. Please consult Royal Purple's automotive technical support department when choosing a transmission fluid.
Racing ATF is fortified with Royal Purple's proprietary Synerlec® technology which is shown to make equipment run cooler, smoother and longer. Its high viscosity index provides exceptional performance at a wide temperature range, making it ideal for both circle track and drag racing applications.
Field testing in GM, Ford and Chrysler drag racing transmissions has shown Royal Purple Racing ATF to be very consistent in pass-to-pass performance. Above and beyond other conventional and synthetic transmission fluids, Racing ATF has resulted in the doubling or tripling of transmission component and fluid life. Not only does Racing ATF boost performance, it provides unmatched protection to the high performance engines that need it most.
Please Note:
Royal Purple's Racing ATF is designed for specific vehicles only. It's important that you consult Royal Purple's Technical Department to determine which ATF is right for you. Racing ATF is not recommended for any stock automatic transmissions or for street use where a friction modified fluid is recommended such as a GM Dexron® III or Ford Mercon®. For automatic transmissions calling for a GM Dexron® / Ford Mercon® fluid, we recommend Royal Purple's Max ATF®.
Dexron® is a registered trademark of General Motors Corporation.
Mercon® is a registered trademark of Ford Motor Company.
Buy Racing ATF online or find a retailer near you.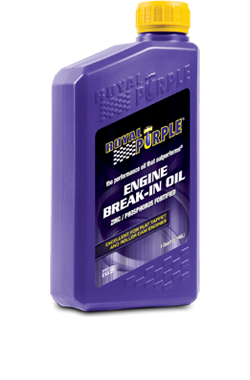 Break-in Oil
Engine builders have grown increasingly concerned that many modern motor oils do not provide adequate wear protection for new engines, particularly those using flat-tappet cams. Royal Purple has addressed this issue by developing a new engine break-in oil that promotes a gentle start-up and gives you superior protection from rough-running engine problems.
Royal Purple combines highly refined mineral oil, preferred for engine break-in, with advanced additives containing high levels of zinc and phosphorus to optimize protection in flat-tappet and roller engines.
Royal Purple Break-in Oil is formulated to allow optimal ring seal and protect rotating assembly components such as the camshaft and valve train from initial start-up wear. Its high film strength provides engine protection superior to full synthetic oils that are not engineered specifically for new engines. Perfect for your new factory-ordered vehicle and engine rebuilds, Royal Purple Break-In Oil is fully formulated and does not require the use of any other chemical additives. After the engine is broken in, we recommend using the right Royal Purple high performance synthetic engine oil for your vehicle.
Are your ready to outperform? From the start?