Automotive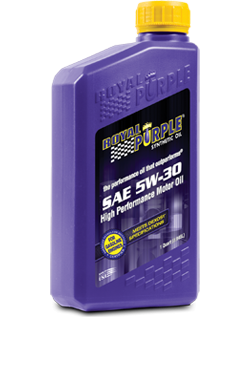 API-Licensed Motor Oil
Royal Purple's API-licensed Motor Oil combines premium base oils with proprietary additive technologies to create high performance motor oils that optimize engine performance. Royal Purple's API-licensed motor oil delivers superior protection and improves performance in gasoline and diesel engines. Royal Purple API-licensed oils meet warranty requirements of most passenger car and light trucks sold in the U.S./North America. See the product data sheet for additional specifications.
No special procedures are necessary when upgrading to Royal Purple. Royal Purple recommends waiting until the manufacturer's first scheduled oil change in new gasoline and diesel engines before upgrading to Royal Purple.
Royal Purple motor oil is compatible with synthetic and conventional motor oils. Available viscosities include: 0W-20, 0W-40, 5W-20, 5W-30, 5W-40, 10W-30, 10W-40, 15W-40 and 20W-50 weights. Royal Purple also offers mono-grade motor oils in SAE 30, SAE 40 and SAE 50 weights.
Performance Advantages
Better wear protection
Enhanced additive technology prevents metal-to-metal contact beyond both dexos1™* and ILSAC GF-5 specs
Increased fuel efficiency
A low coefficient of friction results in optimized fuel efficiency (the fuel economy of our 5W-30 meets the fuel economy requirements of a 5W-20 oil)
Better protection of the expensive catalytic emission system
Patented ZDDP additives optimize emissions catalyst system life
Improved compatibility with fuels containing ethanol
Patented additive technology prevents the white sludge and lubrication starvation that can occur with 20% or higher ethanol fuel
Superior corrosion protection
No rust observed in standard industry testing
*dexos1™ is a registered trademark of the General Motors Corporation.
For those seeking enhanced performance in vehicles not under warranty, we recommend our HPS Series of high performance street motor oils with our proprietary Synerlec additive technology.
For racing applications, we recommend our XPR – Extreme Performance and Racing motor oil.
For improved performance in two-cycle engines, check out Royal Purple's HP 2-C.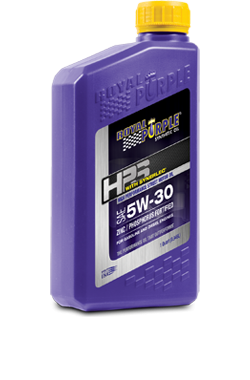 HPS™ – High Performance Street Motor Synthetic Oil
Royal Purple HPS Series motor oil is specifically formulated to maximize performance and meet the demands of high performance and modified engines. HPS is high performance street motor oil recommended for vehicles no longer under manufacturer warranty and for those seeking a higher level of performance and protection.
Royal Purple's HPS is fortified with a high level of zinc/phosphorus anti-wear additive and Royal Purple's proprietary Synerlec® additive technology. This unique blend enables HPS to outperform leading high performance synthetic oils and conventional lubricants for both gasoline and diesel engines. Available viscosities include: 5W-20, 5W-30, 10W-30, 10W-40 and 20W-50.
Royal Purple HPS Series of motor oil responds to increased pressure with increased viscosity. Improved sealing between the piston ring and cylinder wall maximizes horsepower and torque. Its advanced additive technologies improve the condition of metal-to-metal contact under severe load. The advantages are clear. Take a look at the following photos:
| | | |
| --- | --- | --- |
| A new bearing surface appears smooth until magnified 1500x | The bearing is scuffed after using the leading high performance synthetic oil | The bearing is visibly smoother after using Royal Purple HPS |
HPS – High Performance Street Motor Oil Advantages
Maximum wear protection
Exceptionally high film strength dramatically reduces engine wear and engine heat to extend the life of your engine
Improved performance
Improved sealing between the piston ring and cylinder wall maximizes horsepower and torque and optimizes fuel economy
Better efficiency
Exceptional oxidation stability extends oil life and allows for more miles driven between oil changes saving you time and money and reducing the impact on the environment
Cleans
Advanced synthetic solvency reduces engine deposits and keeps engines clean for increased fuel economy and engine longevity
Advanced protection
Protects valve trains using roller or flat tappet lifters that require added protection due to high lift/ high ramp rate camshafts
Superior corrosion protection
Maximum protection extends engine life and ramps up efficiency. For vehicles under warranty, Royal Purple recommends its API-licensed oils available at retailers nationwide
Buy HPS online or find a retailer near you.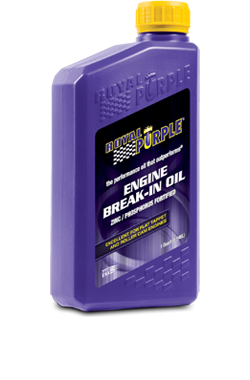 Break-in Oil
Engine builders have grown increasingly concerned that many modern motor oils do not provide adequate wear protection for new engines, particularly those using flat-tappet cams. Royal Purple has addressed this issue by developing a new engine break-in oil that promotes a gentle start-up and gives you superior protection from rough-running engine problems.
Royal Purple combines highly refined mineral oil, preferred for engine break-in, with advanced additives containing high levels of zinc and phosphorus to optimize protection in flat-tappet and roller engines.
Royal Purple Break-in Oil is formulated to allow optimal ring seal and protect rotating assembly components such as the camshaft and valve train from initial start-up wear. Its high film strength provides engine protection superior to full synthetic oils that are not engineered specifically for new engines. Perfect for your new factory-ordered vehicle and engine rebuilds, Royal Purple Break-In Oil is fully formulated and does not require the use of any other chemical additives. After the engine is broken in, we recommend using the right Royal Purple high performance synthetic engine oil for your vehicle.
Are your ready to outperform? From the start?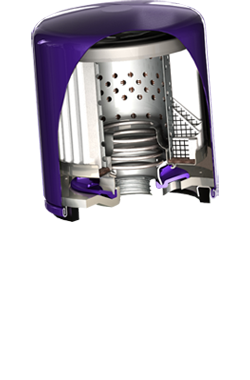 Extended Life Oil Filters
Royal Purple manufactures only one type of oil filter – the super-premium Extended Life Oil Filter, designed and engineered to match superior particle removal with optimized flow for maximum engine protection and filter life. Built smarter and stronger, Royal Purple synthetic oil filters continuously outperform in the toughest conditions.
Superior Filtration
The 100% synthetic micro-glass media we use to make Extended Life filters provides superior particle removal – with 99% filtration efficiency at as small as 25 microns. The difference between Royal Purple and conventional oil filters is staggering:
| | |
| --- | --- |
| Magnified 250 times, a microscope shows large spaces in conventional cellulose filtration fibers. The spaces allow larger particles to enter the oil stream and infiltrate the engine. | Royal Purple's filter media uses the latest technology filtration system to catch particles as small as 25 microns. |
Design and Construction Advantages
Shell
Each Royal Purple oil filter features thicker shell material for extra strength and extra security against puncture from road debris.
Metal End-Caps
Provide each oil filter with a positive seal for filter element assembly.
Center Tube
Designed to prevent filter element collapse.
Filter Element
100% screen-backed synthetic media provides superior filtration while keeping flow restriction low.
By-pass Valve
Engineered to ensure oil flow in situations of excessive filter element flow restriction.
Steel Backplate
Heavy-gauge steel backplate through each filter for higher burst strength.
Gasket
Premium nitrile rubber with special lubricity compound reduces torque during installation and removal.
Silicone Anti-drain Back Valve
Prevents dry starts by eliminating oil drain-back during shutdown. The anti-drain back valve is made of silicone, which outperforms and outlasts standard nitrile rubber in both extreme cold and hot oil temperatures.
Buy Extended Life Oil Filters online or find a retailer near you.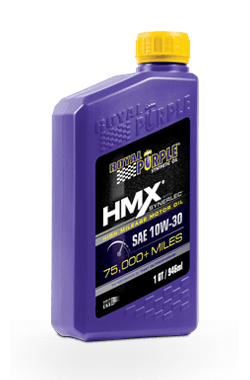 HMX™ – High Mileage Synthetic Motor Oil
Driving an older vehicle? Does it have at least 75,000 miles on it? HMX is synthetic motor oil specifically designed by Royal Purple engineers to minimize wear inside older engines and restore lost engine performance.
Chemically enhanced to revitalize hardened seals, HMX is especially effective at reducing oil consumption common in higher mileage engines with stout detergents that remove deposits and build-up. These detergents then maintain that cleanliness for superior corrosion protection and engine longevity.
Royal Purple HMX is formulated with robust zinc/phosphorus anti-wear additives and Royal Purple's proprietary additive technology Synerlec® to provide unsurpassed film strength.
HMX also provides outstanding oxidation resistance to safely extend oil drains.
Engineered by the brightest minds in additive technology, HMX creates a molecular ionic attraction to metal components, which helps maintain a film of oil to minimize wear and tear upon start-up.
HMX High Mileage Synthetic Motor Oil Advantages
Minimizes wear and restores lost engine performance
Extends drain intervals
Exceptional oxidation stability
Reduces engine deposits
Superior corrosion protection
Fortified with zinc/phosphorus anti-wear additive
Please Note: Royal Purple meets API Service SL warranty requirements for gasoline engines. API recommends SL oils for 2004 or older automobiles. Royal Purple recommends this product for any 4-cycle gasoline engine with 75,000 miles (120,000 km) or more.
Buy HMX online or find a retailer near you.