Automotive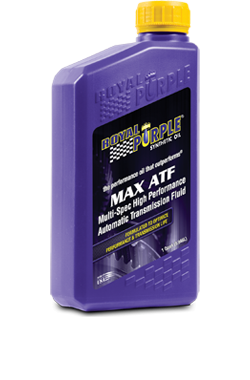 Max ATF® – Synthetic Automatic Transmission Fluid
Max ATF is a synthetic, high-performance, automatic transmission fluid. Its low co-efficient of friction and high film strength help dramatically reduce heat and wear. Additionally, our premium ATF fluid gives you longer fluid life because it's more oxidation-stable than other transmission fluids. A longer lasting synthetic transmission fluid can result in a number of advantages. Most often, Royal Purple customers report crisper shifting, improved fuel economy and increased power with Max ATF.
Max ATF is scientifically engineered to extend the life of your transmission by reducing the amount of heat and wear on your transmission system. Automatic transmissions generate a great deal of heat and depend upon the transmission fluid for cooling and protection. More than 90 percent of all automatic transmission failures are caused by overheating; a 20°F reduction in fluid temperature can double the life of the transmission (Source: Perma Industries, Inc.).
Max ATF is fully compatible and can be mixed with other automatic transmission fluids; however, for the best results, drain or flush the current oil and then fill with Max ATF synthetic automatic transmission fluid.
Max ATF is recommended for vehicles that require any of the following ATF fluids:
Allison C-4, TES-295
Mazda ATF-M III, ATF-MV
Audi G-052-162, G-052-990, G-055-025
Mercedes Benz 236.1, 236.2, 236.3, 236.5,
236.6, 236.7, 236.9, 236.10, 236.11
BMW 7045E, LA2634, LT71141
Chrysler ATF+, ATF+2, ATF+3, ATF+4
Mitsubishi SP-II, SP-III
Chrysler Mopar AS68RC
Nissan 402, Matic-D, Matic-J, Matic-K
Ford FNR5, MERCON®, MERCON® V
Shell 3403, LA2634
GM DEXRON®, DEXRON® II, DEXRON® IID,
DEXRON® IIE, DEXRON®-IIIF,
DEXRON® IIIG, DEXRON®-IIIH
Subaru ATF, ATF-HP
Suzuki 3314, 3317
Texaco ETL-7045E, ETL-8072B, N402
Esso LT 71141
Toyota T-III, T-IV
Honda ATF-Z1 (except in CVT's)
Voith 55.6335.XX (G607)
Hyundai SP-II, SP-III
Volvo Pass Car (4-6 Speed AT), 97340
(Construction Equipment), 97341
JWS 3309, JWS 3314, JWS 3317
Kia Red-1, SP-II, SP-III
VW G-052-162, G-052-990, G-055-025
Idemitsu K17
ZF TE-ML, 03D, 04D, 05L, 09, 11B, 14A,
16L, 17C, TE-ML 14B
JASO 1-A
MAN 339F, 339 V1,339 V2, 339 Z1, 33
Please consult Royal Purple's Technical Department at rpautotech@royalpurple.com to determine which product is right for you.
Please Note:
Max ATF is NOT recommended for the following applications: Allison TES-389, DEXRON® VI, Ford Type F and MERCON® SP & LV, Honda DW-1, Hyundai SP-IV and NWS-9638, Kia SP-IV, JWS 3324, MAN 339 Z3, Mercedes Benz 236.8, 236.12, 236.14 & 236.15, Mitsubishi SP-IV and ATF J2, Nissan Matic-S, Saab 93-165-147, Shell M-1375.4 (ZF 6-Speed AT), Toyota WS (JWS 3324) and ZF TE-ML 14C. Max ATF is not recommended for use in any CVT or DCT applications.
Dexron® is a registered trademark of General Motors Corporation.
Mercon® is a registered trademark of Ford Motor Company.
Buy Max ATF online or find a retailer near you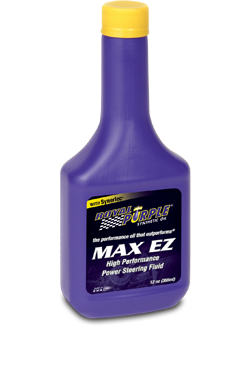 Max EZ® – Power Steering Fluid
Max EZ is an advanced power steering fluid designed to maximize the life and performance of all power steering units.
Max EZ is formulated with a blend of select synthetic base oils plus Royal Purple's proprietary Synerlec additive technology, which is proven to make equipment run cooler, smoother, longer, quieter and more efficiently.
Max EZ is compatible and can be mixed with conventional power steering fluids and has excellent seal compatibility.
Performance Advantages
Greater wear protection
Clean, efficient equipment
Extended pump life
Much longer fluid life
Non-foaming
Outstanding rust / corrosion protection
High temperature service capability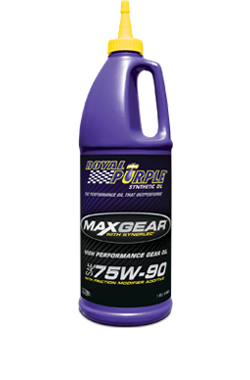 Max Gear – High Performance Synthetic Gear Oil
Max Gear is recommended for use in truck and automotive front or rear differentials, manual transmissions and lower gear units of marine engines that specify use of an API GL-5 or GL-4 fluid. It is non-corrosive to soft yellow metals (brass, bronze, copper, etc.) and synchronizer safe. Specially designed to extend gear and bearing life, Max Gear provides superior corrosion protection over competing conventional and synthetic gear oils.
We engineered this ultra-tough, high performance automotive hypoid gear oil to provide maximum protection to heavily loaded gears while maximizing power throughout the drive train. Max Gear outperforms ordinary gear oils by combining the highest quality synthetic oils with Royal Purple's proprietary Synerlec® additive technology.
Max Gear makes gears run smoother, quieter, cooler and longer without overhauls. A direct reduction of drag in the drive train has huge advantage for trucks and other 4-wheel drive vehicles: better gas mileage. Max Gear is formulated with a friction modifier additive – no additional additives are necessary.
Max Gear is available in the following viscosities: 75W-90, 75W-140, 80W-90, 85W-140 and SAE 90
Max Gear High Performance Gear Oil Advantages
Maximizes horsepower
Extends gear and bearing life
Reduces operating temperature
Severe service performance
Lower coefficient of friction
Superior corrosion protection
Separates rapidly from water
Meets warranty requirements
Environmentally responsible
Formulated for limited-slip differential use
Buy Max-Gear online or find a retailer near you.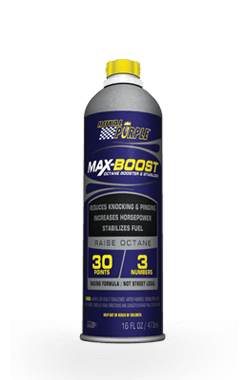 Max-Boost™ Octane Booster & Fuel System Stabilizer
Royal Purple's new Max-Boost is a high performance octane booster and fuel treatment for racing applications that increases gasoline octane, reduces emissions, and enhances engine performance while stabilizing fuel.
Formulated with MMT, Max-Boost delivers the best octane enhancement to help eliminate engine-damaging detonation, pre-ignition, and pinging or knocking from low-octane gasoline. Max-Boost is the best fuel system stabilizer for anyone looking to significantly boost engine performance and efficiency.
Max-Boost fuel system stabilizer is formulated for racing engines equipped with carburetors, port fuel injection and direct injection, as well as turbocharged, supercharged and nitrous-injected engines.
Max-Boost is safe for use in leaded and unleaded gasoline, and alternate fuels like gasohol, reformulated gasoline, and all ethanol blends. Our premium fuel system stabilizer is also safe for oxygen sensors and catalytic converters.
Ready to outperform?
Max-Boost Performance Advantages
Reduces engine knocking and pinging
Raises octane rating up to 30 points or 3 numbers
Restores power and fuel economy
Cleans deposits from fuel injectors
Reduces power loss due to knock-retard in computer controlled vehicles
Replaces lead additives for protection of non-hardened valve seats
Stabilizes fuel
Directions:
One can of Max-Boost treats up to 25 gallons of gasoline. Pour entire can into tank before fill-up. Clean immediately if spills occur, as Max-Boost can permanently stain painted surfaces. Do not expose liquid to direct or indirect sunlight. Be sure to replace cap after can has been emptied, and dispose of properly.
Please Note:
Max-Boost is a racing formula and is not street legal. Please consult Royal Purple's automotive technical support department for more information.
Buy Max-Boost online or find a retailer near you.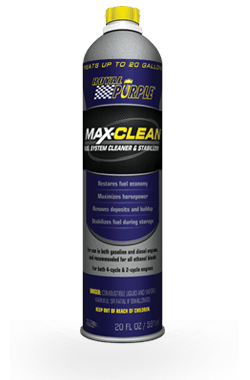 Max-Clean Fuel System Cleaner & Stabilizer

Royal Purple's new Max-Clean is a state-of-the-art synthetic fuel system cleaner that deeply penetrates and cleans injectors, carburetors, intake valves and combustion chambers to restore fuel economy and reduce emissions.
The illustration below shows the fuel injector before and after using Max-Clean.

Illustration of before and after Max-Clean
NAPA Know How writers recently cited twice-annual use of Max-Clean in gas tanks as one of the "10 Overlooked Services that can Extend the Life of Your Vehicle."
Highly versatile, Max-Clean is EPA / CARB compliant and safe for use in gasoline and diesel engines including all ethanol blends or biofuel. Max-Clean is great for use in in both 4-cycle and 2-cycle engines, and will not harm specialized emissions equipment.
Fuel system cleaner is worth it. We performed multiple product fleet tests on various makes and models of vehicles and, after as little as one treatment with Max-Clean, we found significant advantages in engine performance and fuel economy.
Max-Clean Performance Advantages
Improve fuel economy an average of 3.2 percent
Restore horsepower an average of 2.6 percent
Reduce hydrocarbon, nitrogen oxide (NOx) and carbon monoxide (CO) emissions (on average 12, 13 and 18 percent respectively)
Prevent rough idle, hesitation, and stalling
Prevent premature spark plug fouling
Reduce deposit-related engine knocking and pinging
Stabilizes fuel during off-season and storage
Superior corrosion and oxidation inhibitor
Recommended Treat Rate & Usage

3,000 Mile Interval – 6 oz. can
Pour entire contents of 6 oz. can into tank prior to fueling. Each can treats up to 20 gallons. Max-Clean fuel system cleaner is ideal for both 2-stroke and 4-stroke engines.
10,000 Mile Interval – 20 oz. can
Pour entire contents of 20 oz. can into a nearly empty tank and refuel. One (1) can treats up to 20 gallons. For tank sizes outside of this range, use one (1) ounce per gallon. In 2-cycle engines, use one (1) ounce per two (2) gallons.
Buy Max-Clean online or find a retailer near you.