Automotive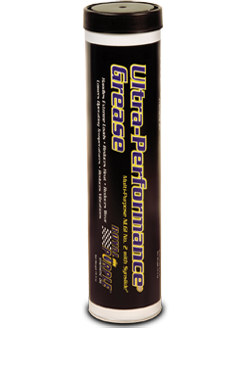 Ultra-Performance Grease
Royal Purple Ultra-Performance Grease (UPG) is a high performance, multi-service, aluminum-complex, synthetic grease which significantly increases bearing life and equipment reliability. It also makes bearings run smoother, cooler and quieter.
UPG satisfies a wide range of grease requirements from the lubrication of bearings to u-joints and general-purpose use. It has outstanding extreme pressure capabilities and excellent water resistance to both emulsion and washout. UPG is stable at high temperatures. It also has excellent oxidation resistance for extended service life and to provide a margin of safety between lubrication intervals.
When the China Star Bullet Train was having heat problems keeping them from achieving optimal speed, they evaluated 26 of the best lubricants available. Royal Purple's UPG product solves heat problems for the China Star Bullet Train.
After careful testing, senior engineers selected Royal Purple's Ultra-Performance Grease. Not only did UPG help them resolve their heat problems, it also, enabled them to set a new land-speed record for bullet trains.
UPG is made using a superior blend of synthetic base oils plus Royal Purple's unique, proprietary, noncorrosive Synerlec additive technology.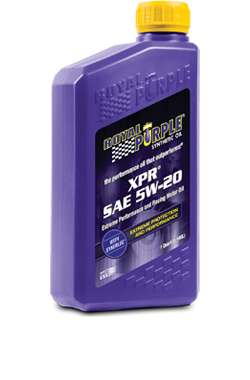 XPR® – Extreme Performance Synthetic Racing Oil
Royal Purple's XPR (Extreme Performance Racing) synthetic motor oil is specifically formulated for the demands of multi-platform racing environments. XPR is popular in a variety of motorsports including: NASCAR, NHRA, World of Outlaws and Bonneville Salt Flats.
XPR combines the highest quality of synthetic base oil with Royal Purple's proprietary Synerlec® additive technology and additional performance enhancers that maximize horsepower and torque while providing the highest level of protection against motorsports-grade heat and wear. XPR synthetic motor oil provides more protection than leading synthetics and conventional lubricants including those combined with aftermarket additives.
Professional engine builders and race teams cite increased horsepower and longer engine life with the use of Royal Purple.
Exceptionally tough under extreme heat, Royal Purple XPR comes in a range of weights, each specific to certain motorsports applications and fuel types – such as alcohol, methanol and nitrous oxide.
Available XPR synthetic motor oil viscosities:
XPR 3.1 0W-5
is our lowest viscosity engine oil designed for the most competitive classes such as Pro Stock, Pro Stock Bike, Comp Eliminator and NASCAR Cup (qualifying). The ultra-low viscosity provides the most horsepower possible by keeping parasitic losses to an absolute minimum while providing unparalleled protection.
XPR 0W-10
is an ultra-light viscosity motor oil formulated for gasoline engines used in drag racing, motorcycle sprint racing, etc.
XPR 5W-20
is a light-viscosity motor oil formulated to withstand exotic fuels such as alcohol, methanol and nitrous oxide (NO2). This blend is excellent for drag racing.
XPR 5W-30
works well in a variety of applications, from oval track late models to bracket racing. This synthetic motor oil blend is extremely versatile and produces excellent horsepower while preventing wear.
XPR 10W-40
is designed for marine, oval track and endurance car racing. Capable of withstanding long intervals of extreme heat, it works especially well with alcohol and methanol and is extremely popular in sprint cars, late models and World of Outlaws racing.
XPR 20W-50
is formulated for running extended periods under extreme pressure and heat. It is used in oval track, marine and drag racing and is very popular in sprint cars, late models, truck pullers and bracket racing.
Please consult Royal Purple's Technical Department when choosing the racing oil for your specific application.