Automotive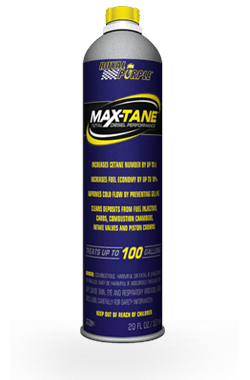 Max-Tane™ Diesel Fuel Injection Cleaner & Cetane Booster
Diesel engines are valued for fuel efficiency and longevity. Extend the miles you can drive and years of service on your diesel engine with Royal Purple's new Max-Tane fuel injector cleaner and stabilizer.
Max-Tane is for year-round use in all types of light, medium and heavy duty diesel engines, and is compatible with any type or grade of diesel fuel, including #1 diesel and #2 diesel, biodiesel and ultra-low-sulfur diesel (ULSD).
Specifically formulated to solve problems that come with today's new HPCR (High Pressure Common Rail) diesel injection systems, this premium fuel system cleaner prevents gelling, improves fuel economy, lubricates and cleans the fuel system.
Max-Tane is safe to use with all types of diesel exhaust emission systems equipment, including diesel particulate filters (DPFs) and catalytic converters. However, do not pour Max-Tane directly into Diesel Exhaust Fluid.
Max-Tane Performance Advantages
Increases cetane number by 8*
Increases fuel economy by up to 10%
Improves engine startup and reliability in both warm and cold temps
Improves cold flow by preventing gelling
Cleans deposits from fuel injectors, combustion chambers, intake valves deposits and piston crowns
Provides lubricity to entire fuel system
Reduces smoke and odor
* When used as directed.
Recommended Treat Rate
20 ounces → 100 gallons
15 ounces → 75 gallons
10 ounces → 50 gallons
5 ounces → 25 gallons
Directions:
The minimum recommended Max-Tane treat rate is one (1) ounce per five (5) gallons of diesel fuel. High performance applications can safely use one (1) ounce per two (2) gallons of diesel fuel for maximum benefit. If uncertain of exact tank size, round up. Replace cap after bottle has been emptied and dispose of properly.
Buy Max-Tane online or find a retailer near you.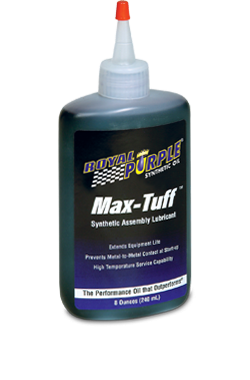 Max-Tuff Synthetic Assembly Lubricant
Max-Tuff is an ultra-tough, synthetic lubricant. It's designed for engine builds and repairs, specifically crankshaft, camshaft and rod bearing assembly. Max-Tuff utilizes unique, synthetic molecules that adhere to metal surfaces to create a formidable, load-bearing physical barrier between surfaces. This minimizes the metal-to-metal contact and wear in boundary lubrication conditions, and provides excellent protection against rust and corrosion of both ferrous and nonferrous metals.
Performance Advantages
Greater wear protection
Clean, efficient equipment
Extends equipment life
Compatible with conventional mineral and synthetic oils
Non-foaming
Outstanding rust / corrosion protection
High temperature service capability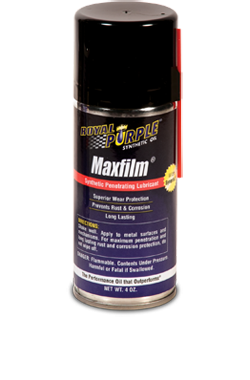 Maxfilm® Multipurpose, Synthetic Lubricant
Royal Purple Maxfilm is a high film strength, multipurpose, synthetic lubricant / penetrant that excels in a wide array of applications. Maxfilm deeply penetrates, cleans and loosens rusted parts. Once applied, its solvent carrier evaporates and leaves a tenacious, thixotrophic lubricating film on all metal surfaces, providing long-lasting protection against wear, rust and corrosion.
Maxfilm contains Royal Purple's proprietary Synerlec® additive technology, which is proven to make equipment run smoother, cooler, quieter, longer and more efficiently. Maxfilm has a CO2 propellant.
Maxfilm is Recommended For:
Loosening stuck parts such as nuts, bolts, locks, hinges, etc.
Lubrication of power tools, hinges, chains, rollers, open gears, fishing tackle, lawn equipment, etc.
Preserving and protecting parts in storage, disassembled machinery parts, wire ropes, etc., against rust and corrosion
Use as a manual cutting fluid to facilitate the ease of hand drilling, tapping, metal cutting, etc., of steel and aluminum
Tech Tip:
For best results shake Maxfilm well before each use and use the can in an upright position to maximize aerosol propellant life.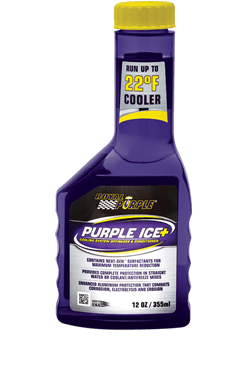 Purple Ice® – Radiator Coolant Additive
Purple Ice® is a high performance radiator conditioner. Its advanced 2-in-1 corrosion inhibitor and wetting agent provides year-round defense against corrosion. Purple Ice also reduces the surface tension of the radiator coolant to help reduce engine temperatures.
Reduces Coolant Temperatures
Extensive testing confirms Purple Ice reduces coolant temperatures better than comparable products while providing extra corrosion protection. For example, the average operating temperature of a 350 c.i.d. V8 engine (equipped with 160˚ thermostat) when dyno-tested with different coolants are: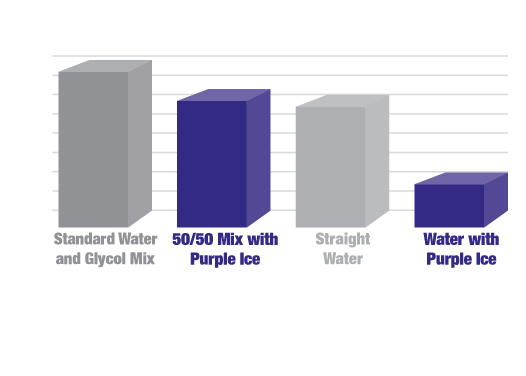 Recommended Treat Rate*
For use with antifreeze:
1 oz. / quart of cooling system capacity
For straight water applications:
2 oz. / quart of cooling system capacity
*minimum of 20% antifreeze is recommended in street-driven vehicles.
Performance Advantages
Improved Performance
Reduces surface tension of a coolant allowing more heat to transfer outside the radiator resulting in more horsepower
Reduced Heat
Reduces hot spots in the engine and cylinder heads, reducing the possibility of engine failure
Maximum protection
Helps prevent overheating, keeps the system clean and extends the life of the water pump
Compatible
Safe to use with water-only or antifreeze/water blends
Tech Tip: Important Precautions: Be sure your cooling system is working properly and that the radiator is free of blockage and corrosion before using Purple Ice. Antifreeze should be properly mixed and filled to manufacturers' specifications. Distilled water and / or demineralized water should not be used if you elect to run a mixture of straight water and Purple Ice in your radiator. Contact Royal Purple's Technical Support department if you are considering using Purple Ice with straight water or if you have previously used another brand of coolant additive. Call toll-free at 888-382-6300 or Email Technical Support.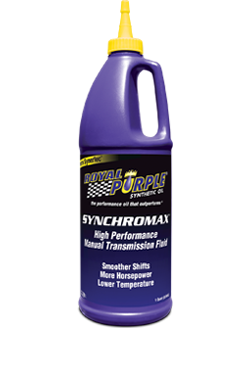 Synchromax – Manual Transmission Fluid
Synchromax is a synthetic manual transmission fluid designed to increase performance and expand the life of your manual transmission. Using Synchromax improves shifting, reduces gear noise and increases power transfer to the wheels. As a performance transmission fluid, it also lowers operating temperatures and provides outstanding wear protection.
Synchromax is recommended for manual transmissions that specify an automatic transmission fluid. It's also ideal for 4×4 transfer cases and motorcycle gear boxes. Fully compatible with all types of friction materials, Synchromax provides excellent corrosion and oxidation protection without affecting the soft metals commonly found in manual transmission synchronizers.
Formulated with Royal Purple's proprietary Synerlec® technology, Synchromax is the top synthetic transmission fluid for protection and an all-around smoother ride.
Replacing or rebuilding your transmission can cost thousands. Avoid costly transmission repairs by replacing old fluid with Synchromax. Are you ready to outperform?
See our transmission lubricant cross-reference chart for specific applications.