Industrial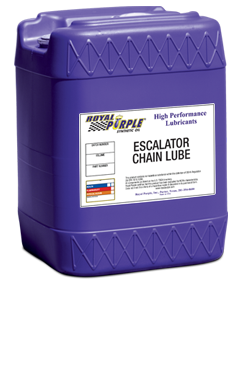 Escalator Chain Lube
Escalator Chain Lube is an ultra-tough, high-film strength synthetic lubricant designed to lubricate the chains of escalators, moving sidewalks and elevator doors.
Escalator Chain Lube significantly improves equipment reliability while reducing lubricant consumption by as much as 75%.
Escalator Chain Lube reduces noise levels and extends the life of chains and other high wear components such as novatex boards.
Synerlec® additive technology makes the difference by forming a tough, slippery, synthetic film on all metal surfaces. This proprietary film significantly improves lubrication: first, by increasing oil film thickness and second, by increasing oil film toughness, both of which help to prevent metal-to-metal contact.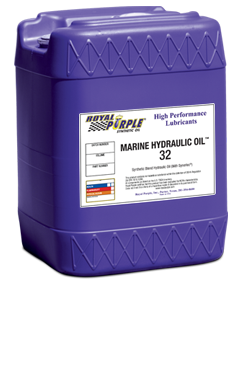 Marine Hydraulic Oil™
Royal Purple's Marine Hydraulic Oil™ is an inherently biodegradeable, ashless, environmentally responsible, high performance, hydraulic oil formulated for those users that need a high performance oil to protect their equipment yet are concerned about the environment.
Marine Hydraulic Oil™ meets the U.S. Fish and Wildlife Department's and the EPA's toxicity test requirements for marine life.
Marine Hydraulic Oil™ is an excellent, high performance, hydraulic oil for use in sensitive environments such as off-shore platforms and other marine related services.
The long life and high film strength of Marine Hydraulic Oil™ greatly increases equipment reliability and provides excellent protection in highly corrosive environments. It gains its performance advantage over competing oils through its superior blend of base oils plus Royal Purple's proprietary Synerlec® additive technology. This unique, synthetic additive technology is proven to make bearings and equipment run smoother, cooler, quieter, longer and more efficiently.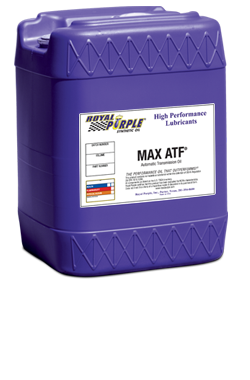 Max ATF® • Synthetic Automatic Transmission Fluid
Max ATF is a synthetic, high-performance, automatic transmission fluid. Its low co-efficient of friction and high film strength help to dramatically reduce heat and wear. Additionally, Max ATF is more oxidation stable than other transmission fluids for longer fluid life.
Automatic transmissions generate a great deal of heat and depend upon the transmission fluid for cooling and protection. More than 90 percent of all automatic transmission failures are caused by overheating; a 20°F reduction in fluid temperature can double the life of the transmission (Source: Perma Industries, Inc.). Max ATF significantly reduces heat to extend the life of your transmission.
Max ATF is fully compatible and can be mixed with other automatic transmission fluids; however, for the best results drain or flush the current oil and then fill with Max ATF.
Max ATF is recommended in vehicles requiring
any of these automatic transmission fluids:
Allison C-4
KIA SP-II & SP-III
Allison TES-295
MAN 339F
Audi G-052-025-A2
Mercedes Benz 236.x
BMW LA2634
Mitsubishi Diamond SP-II
BMW LT71141
Mitsubishi Diamond SP-III
Chrysler ATF+, ATF+2
Nissan Matic-D
Chrysler ATF+2 Type 7176
Nissan Matic-J
Chrysler ATF+3
Nissan Matic-K
Chrysler ATF+4
Toyota Type-T
Ford Mercon
Toyota Type T-III
Ford Mercon V
Toyota Type-IV
GM 9986195
Voith 1161521 & 1161540
GM Dexron
Voith 55.6335.32 (G607)
GM Dexron-II
Voith H55.6336.33 (G1363)
GM Dexron-IID
VW TL52162
GM Dexron-IIIG and H
ZF TE-ML 14B
Honda ATF-Z1 (except in CVT's)
ZF TE-ML 16L
Hyundai SP-II & SP-III
ZF TE-ML 17C
JWS 3309
Max ATF is not recommended or an approved warranty replacement for: Ford Type F, Ford Mercon SP, Ford Mercon LV, GM Dexron VI, Mercedes Benz NAG-2, Toyota WS, Volvo 5 speed. Max ATF is not for use in any CVT applications or AWD units unless listed above.
Dexron® is a registered trademark of General Motors Corporation. Mercon® is a registered trademark of Ford Motor Company.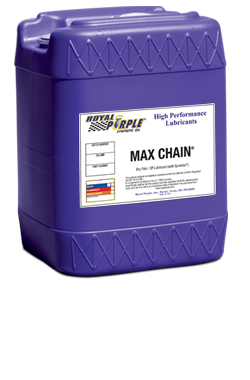 Max-Chain®
Max-Chain is an advanced, synthetic lubricant that dramatically reduces wear and extends equipment life. It provides excellent protection against rust and corrosion for chains, open gears and exposed metal surfaces subjected to severe loading. It works equally well in wet, acidic environments and dusty environments.
Max-Chain can be applied by either spraying or brushing. Once applied, the carrier evaporates leaving a long-lasting, dry, wax-like film. This non-tacky film effectively minimizes the collection of abrasive dust and other airborne contaminants. Max-Chain can lubricate at up to 400°F once the carrying solvent has evaporated.
TECH TIP
Consult manufacturer for high temperature applications prior to using Max-Chain.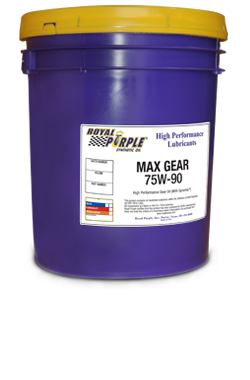 Max-Gear®
Max-Gear is an ultra-tough automotive gear oil. It's designed to maximize power and provide unsurpassed protection to heavily loaded gears. It makes gears run smoother, quieter, cooler and longer without overhauls.
Max-Gear outperforms other gear oils because it combines the highest quality synthetic oils with Royal Purple's proprietary Synslide® additive technology.
Max-Gear is recommended for use in truck, motor home / RV, and automotive front or rear differentials, manual transmissions, and lower gear units of marine engines that specify use of an API GL-5 or GL-4 fluid. All viscosities of Max-Gear are formulated with hypoid friction modifiers necessary for use in clutch or cone type differentials. No additional additives are necessary.