Industrial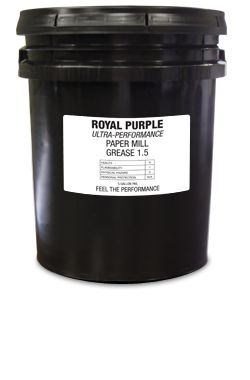 Paper Mill Grease
Royal Purple® Paper Mill Grease is a high performance, aluminum complex, syntehtic grease designed to lubricate a wide range of typical paper / pulp processing applications using a single grease. Paper Mill Grease is the appropriate bearing lubricant for all paper machine bearings from the wet end through the dry end operating at speeds of 1500 FPM to 6500 FPM. Due to its superior film strength, it is highly recommended on wet end roll bearings, wire return rolls, couch rolls, suction press rolls, granite or synthetic covered press rolls and wet felt rolls. It is also recommended for dry end rolls such as dryer felt rolls, coater rolls, calendar rolls, winder rolls and super calendar rolls. (For shafts in excess of seven inches in diameter or speeds in excess of 3000 RPM, consult your Royal Purple® representative or contact Royal Purple's technical support staff at 281-354-8600.) Royal Purple® Paper Mill Grease's versatility allows its use in auxiliary equipment such as pumps, refiners, fans and conveyors. Royal Purple® Paper Mill Grease gains its performance advantages through its superior blend of synthetic base oils plus Synslide® additive technology. Royal Purple's unique, proprietary, noncorrosive, EP additive technology. Royal Purple® Paper Mill Grease significantly increases bearing life and equipment reliability and makes bearings run smoother, cooler, quieter, longer and more efficiently. Unique Performance Advantages Aluminum Complex Grease Base Greater Wear Protection Reduces Vibrations Exceptional Water Resistance Broad Service Applications Outstanding Oxidation Stability Excellent Rust and Corrosion Protection Environmentally Responsible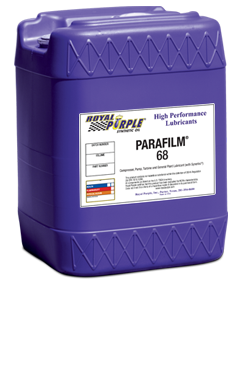 Parafilm®
Parafilm® is recommended for use in air compressors, pumps, turbines, bearings and general plant equipment where premium performance is desired but the use of a fully synthetic oil is not a viable option.
Parafilm® is a high film strength, para-synthetic lubricant that offers Royal Purple's renown performance advantages in an economical mineral / synthetic oil blend. Parafilm® rapidly separates from water, extends oil drain intervals, keeps equipment clean, provides excellent protection against rust and corrosion.
Parafilm® is formulated with Synslide® additive technology.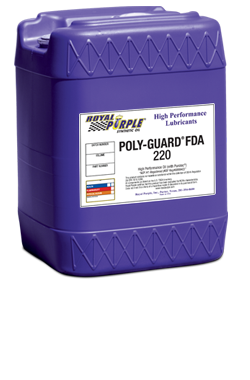 Poly-Guard® FDA
Poly-Guard® FDA is recommended for use in compressors, pumps, gear boxes, bearings, hydraulic systems, blowers or almost any other equipment in food processing or pharmaceutical plants requiring oil.
Poly-Guard® FDA is a superior anti-wear, long life, synthetic lubricant that is USDA H-1 approved and meets the FDA CFR Title 21 Section 178.3620(b) purity requirement.
Poly-Guard® FDA is formulated with Royal Purple's proprietary Purolec® additive technology, which is proven to reduce wear and to keep equipment cleaner, allowing for substantially longer oil drain intervals.
Using Poly-Guard® FDA saves money, minimizes inventory, reduces maintenance, improves equipment efficiency and extends equipment life. It is available in ISO viscosity grades 15 through 680.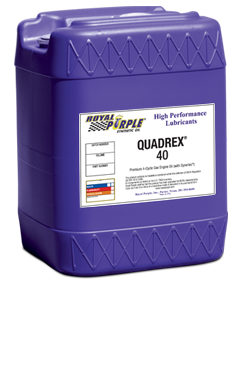 Quadrex® / Quadrex® Hi-Base
Quadrex® is a low ash, fuel saving, high performance, synthetic blend 4-cycle natural gas engine oil.
Quadrex® saves fuel and reduces maintenance costs. It extends drain intervals, ring and bearing life, prevents piston seizing and scuffing and keeps engines clean.
Quadrex® is formulated with Royal Purple's advanced proprietary Synerlec® additive technology, which is proven to make equipment run smoother, cooler, quieter, longer and more efficiently.
Quadrex® Hi-Base has all of the performance advantages of Quadrex®, but is formulated for gas engines using high sulfur fuel. When new, its sulfated ash is above 0.45, but in service, its synthetic solvency controls ash. This makes it comparable in performance to conventional low ash gas engine oils, yet it will still protect against the harmful effects of corrosive fuels. Quadrex® Hi-Base is available with TBNs of 8, 10 and 14.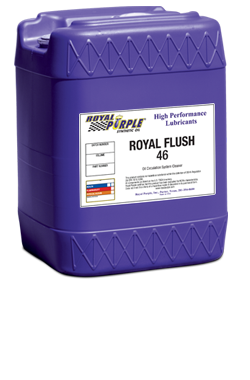 Royal Flush
Royal Purple's Royal Flush is a safe, effective and inexpensive product for cleaning sludge and varnish from equipment while in service.
Because Royal Flush is available in only two viscosities and is not a fully formulated oil, machine loads and oil viscosity requirements should be considered when deciding how best to use Royal Flush. Cleaning time and effectiveness will vary depending upon such factors as the cleanliness of the system, the oil temperature, degree of oil agitation, the amount of Royal Flush added to the system and the duration of cleaning. The mixing chart (available below) provides a guideline for pre-mixing Royal Flush 46 with Royal Flush 1000 to create a new ISO viscosity grade of Royal Flush to attain the ISO grade desired, whether it's for mixing with an existing oil or as a total replacement of the existing oil.
Royal Flush can be used in three ways:
Royal Flush can be added to an existing oil to clean varnish and sludge from equipment prior to draining the existing oil.
Royal Flush can be used as a temporary oil fill to clean varnish and sludge from equipment before refilling with new Royal Purple oil.
Royal Flush can be used as a temporary oil fill for cleaning and flushing a polyglycol oil that is incompatible with the new oil to be used (i.e. when changing from a polyglycol oil to a Royal Purple PAO or para-synthetic oil).
Royal Flush Mixing Chart
For Royal Flush ISO Viscosity
Mix % Royal Flush 1000
With % Royal Flush 46
1000
100
0
680
89
11
460
78
22
320
67
33
220
56
44
150
45
55
100
34
66
32, 46, 68
0
100
Flushing / cleaning procedures can vary depending on the type of equipment, the number and location of oil drain points, how dirty the system is, the quality of filtration and the ability to monitor and / or change filters / screens in circulating systems and other service parameters.
Royal Flush has some anti-wear properties, but it is not a full formulated oil. It can be used as a lubricant to clean and flush equipment in service for short periods of time. Whenever possible, it is recommended that Royal Flush be circulated throughout the oil system while the equipment is idle.
The Product Sheet contains general guidelines for system flushing / cleaning.
Please consult with Royal Purple's technical support group at 888-382-6300 for guidance on specific equipment or circumstances.